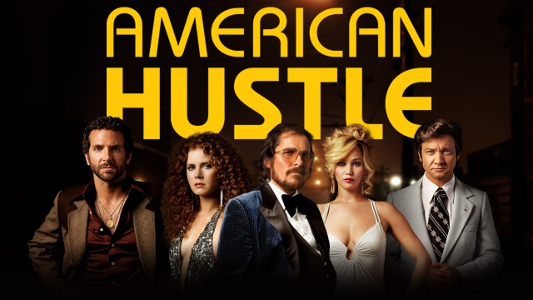 As the carousel of films turns slowly, revealing to British cinemas the award contenders for 2014, I'm excited for quite a few movies on the near horizon.  One movie that I'd heard a bit about before actually seeing was American Hustle. It's been nominated for 7 Golden Globes and is hotly tipped for the Oscars in March.  I'm glad to say the hype is justified.
With a stellar cast, there was an obvious draw to the film.  Christian Bale, Amy Adams, Bradley Cooper and Jennifer Lawrence receive star billing for their performances at the centre of the drama.  Set in 1970s New York, Bale plays Irving Rosenfield, a con artist working on a series of loan frauds.  He is unhappily married to Rosalyn (Lawrence), when Sydney Prosser (Adams) comes in to his life at a party.  The two bond and eventually go into 'business' together.  When their operation is shut down by FBI investigator Richard DiMaso (Cooper), Irving and Sydney are given a plea bargain to work their charms on other criminals and to free themselves of their criminal lives.  Then comes an elaborate scheme to entrap some of the most powerful people in politics and beyond, all entangled with the personal tensions between the main characters.
The film starts out with the events of one of the crew's first sting operations, and then explores in vivid detail what led each character to be there and their involvement with each other.  It's an interesting choice that makes the film more engaging.  The plot then goes back to the present and shows how Irving and Syndey's time working for the FBI is spent.  Being a film about a hustle, there are many little hints that are developed upon throughout the film that are clever and make the plot turns feel natural.  It's a good story, but not the most world-changing of plots.  If you've seen a film about the art of the con before, you'll not find anything that new here.
The acting performances from all main characters are impressive.  The plot is far from the centre of the director's attention, with a film that had heavy improvisational input from the actors to provide a great sense of character.  Bale is probably my pick of the bunch, playing a guy that seems down-on-his-luck and truly torn between two women, and with a sleaze that appears the polar opposite from what you'd expect from an actor who last played Batman. You can't help but root for him despite his demons.  Lawrence plays the somewhat trashy yet classy wife to a tee, while Adams and Cooper both play their aspiring characters very well.  Jeremy Renner also appears as Mayor Carmine Polito, and does a good job of being likeable and sincere whilst committing shady deals for what he believes to be the good of his town.
The film does a good job of injecting comedy into a rather serious plot.  Rosalyn's inherent brazenness often produces a few laughs, as well as Richie's over-enthusiasm for his work and his passion for Sydney.  The humour is deadpan, and not really in your face, but makes the film more human and likeable.  Perhaps the joke of the film is referring to a microwave as a "science oven" and the ensuing trouble when Rosalyn doesn't heed the warnings about the new technology.  The classic, decadent 70s setting of the film also brings a smile, with Irving's elaborate combover and the leading ladies' dresses being the best examples.  It's a film that you will have fun watching.
American Hustle, overall, is a brilliant film that you should go and see in cinemas.  It's funny and clever and boasts some of the best acting performances I've seen from the ensemble cast members.  2014's films are off to a great start with American Hustle.