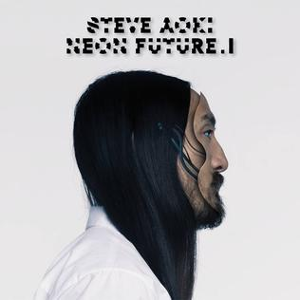 Steve Aoki's been one of my favourite DJs for a while now.  Since I really got into electronic dance music a few years ago, some of the songs he's been involved in have been my favourites to listen to – with a playful beat to them as well as some fantastic drops as well.
Lately Aoki's gone off the boil, at least in my regards.  Apart from a tune or two here and there, most of his music has been a little too similar and hasn't really broken new ground.  His appeal might be growing, with some very impressive collaborations with 'mainstream' artists under his belt – but his status as a superstar DJ is certainly falling.  Neon Future I isn't much of a step forward for EDM or for Aoki himself.
The idea of the future seems to captivate Aoki, as he opens and closes the album with two rather more soft and instrumental pieces – with Ray Kurzeil and Aubrey de Grey being sampled with their thoughts on how life will continue in the future.  Despite this look ahead though, the album itself does little to move forward.
Aoki's weight in the industry over the last few years has seen him drum up an impressive number of guest artists with big players and that's evident in Neon Future, as the album is built around them.  Fall Out Boy, will.i.am and Wacka Flocka Flame are all artists that music fans outside of EDM will be familiar with.  They each provide a unique character to their songs on this album, but the problem lies with the songs themselves.  Aoki tries to toe the line between poppy and hard dance music, and in the end creates an awkward mix of the two rather than something coherent.  "Rage the Night Away" does a decent job, evoking the classic remix of Kid Cudi's "Pursuit of Happiness" a little, and it is probably going to be the favourite song on the album for those of us who are after something far more intense.  Disappointingly though, nothing else really comes close.
One of the best Aoki tracks of the last few years was "Boneless", a collaboration that came out last year with Tujamo and Chris Lake.  It's slower, minimalistic drop was really good and a perfect song for clubs everywhere.  However for this album Aoki chose to get rapper Kid Ink involved with the song, with his attempts to add more to the song ending up taking away its appeal.
The album does have a few good tracks that are worthwhile giving a listen to though. "Afroki" is a good song from perhaps my favourite DJ combo of Afrojack and Aoki, with prolific songwriter Bonnie McKee on vocals as well.  This provides a more classic sort of dance song, with the strong influence of Afrojack making it more club-friendly that the rest of the album.  Just before that is "Free the Madness", which starts off quite intense and keeps a good pace throughout the song – with a more big room style to it's' drops that I quite like.
I feel Aoki's time at the top of the DJ pile may be over, with others like Martin Garrix, Hardwell, and perhaps even Afrojack still, putting out much more interesting dance songs with less of the unnecessary frills.  Aoki will now go to Madison Square Garden and become the first DJ to play there, but that's about as much trail blazing as he's likely to do for the genre from now on.